TOURS
Die Lodge ist der ideale Ausgangspunkt um viele Naturschonheiten Costa Ricas zu entdecken und um sich sportlich zu betatigen.
Von hier aus konnen sie den machtigen Vulkan Arenal oder die Hangebrucken am Arenalsee besuchen , Wasserfalle bewundern, in heissen Quellen baden und die Tier- und Naturparadiese Cano Negro , Rio Bebedero oder Rio Celeste erforschen .
Wer sich sportlich betatigen mochte kann zu Berg- und Wandertouren, Rafting, Canopy , Kayaking oder Windsurfing aufbrechen , um nur Einiges zu nennen.
Sie konnen bei uns auch Fahrrader ausleihen!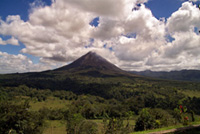 Arenal volcano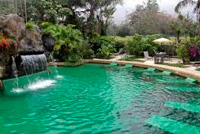 Thermalbader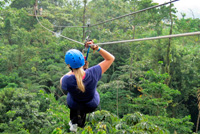 Canopy tour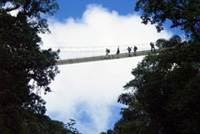 Hangebrucken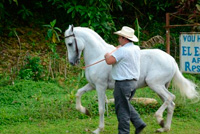 Horseback riding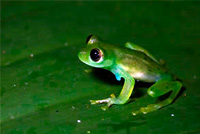 Reptile house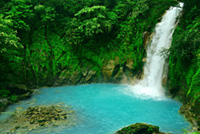 Rio Celeste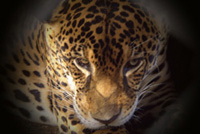 Mini Zoo Las Pumas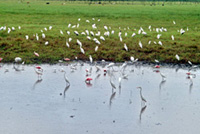 Cano Negro
---
Wasserfalle

Hiking & biking

Schmetterlingsgarten

Birdwatching und Kajaktouren

Venadohohlen

Rio Bebedero

Tenorio National Park

Reit- Wander -und Radtouren
---
Arenal Volcano's Thermal Waters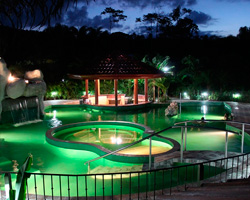 Take a dip in "Palma Real" and "Los Papiros" thermal pools and let the warmth and the waterfalls soothe and relax your entire body; or if you prefer, enjoy the confort and hydro massage that provides "Ginger Jacuzzi", or our newest attraction: "Oasis Jacuzzi".
Always feel in the tropics by being surrounded by our beautiful tropical gardens. Admire exotic palms, flowers and even costarrican coffee trees; and don't forget about the main character... breath taking Arenal Volcano!
Rates:
$23 p.p.
$35 p.p. including lunch or dinner
*Price includes locker and towell
[ Top ]
---
Canopy Tour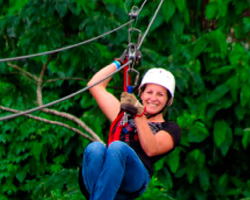 Like a bird that flies through the tree tops... That's the way you will feel doing our canopy tour, a perfect combination of adventure, nature and adrenaline, just at the foot of the Arenal Volcano.
We stand out because of our privileged location, our primary forest and for offering the highest standards of security for this adventure sport; we are in the small group of canopy operators that incorporates a second security cable for taking care of our visitors. Also, in contrast to other operators, we offer the possibility of starting the tour at the time that our client chooses.
The canopy tour operates in different schedules: 7:40 a.m., 9:40 a.m., 11:40 a.m., 1:40 p.m. y 3:20 p.m. Sometimes, the time for starting the tour can be earlier or later with the objective of adapting our service to our client's needs. That is why, it is important to verify the starting hour of the tour and arrive to our reception room 15 minutes before that time.
Enjoyment, a panoramic view of the zone and the company of a naturalistic guide that will show you different species of animals and plants... That's what you will get in this trip that will become you a new element of the nature around you.
This adventure will take you for 13 cables, starting in one of 25 meters of extension. The level of adrenaline will increase until you arrive to cable number 12. This is the longest cable and it is 430 meters long.First, our specialized guides will give you the needed equipment to enjoy with security and you will receive a speech to know what to do during the tour. Then, we will take you to the first canopy platform in an off road car and after that, you won't stop flying!
Rates:
Children under 12 and students: $45
Adult rate: $55
[ Top ]
---
Hanging Bridges Park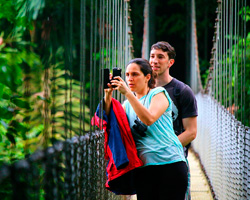 Hanging Bridges Park is located on the Arenal fault in a tropical transition wet forest. It is located at 600 meters above sea level, and it concentrates 250 ha of mature forest, with an annual rainfall of 3.500-6.000 m.m. and a relative humidity of 88-92%. The trail is 3 km and allows tourists to walk on 15 bridges; 6 of which are hanging. This is a highly diverse forest since it lies between the boundary of highland and lowland forest, integrating species from both areas.
[ Top ]
---
horseback riding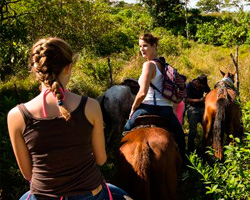 "Most public riding establishments have old nags riding nose to tail. Alesandro operates a horse rescue. His family runs the restaurant. His sons are horse trainers and farriers and his daughter was our guide on a great ride through the area surrounding lake Arenal. We own horses at home and I guess she could tell we could ride as she told us where the best places were to go gallop is if we wanted to. The views are amazing. The horses are very well trained and appear to be bomb proof as a pack of about 6 dogs came out of nowhere and didn't bother the horses at all."
Rates: $44 p.p.
[ Top ]
---
Reptile house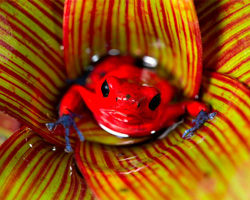 We have one of the best collections of reptiles and amphibians in Coast Rica. You will also enjoy our butterfly habitat, insect zoo and recreational activities.
Of the approximately 200 species of Costa Rican reptiles that have been described, more than 80 are on display at the Zoo. Snakes are the largest group of reptiles displayed in our exhibits, with nearly 70 species. Turtles, lizards and crocodiles make up the rest of our animals.
Rates: $20 p.p.
1 1/2h tour with English spoken guide
[ Top ]