Ceiba Tree Lodge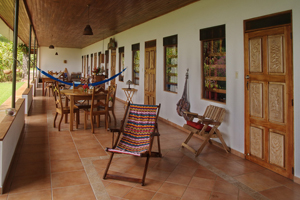 Ceiba Tree Lodge , a private natural refuge of 37 acres, is located 3,7 miles southeast of Nuevo Arenal at an elevation of 1500 ft, with a matchless view over a great expanse of the lake.
On your way to the lodge you will see from a distance the majestic tree which gave the lodge its name. This tree was chosen "tree of the year " of Costa Rica in 2006. Its is 500 years old and overgrown with countless ferns, bromeliads and orchids.
The entrance to our Lodge is located in the main street that goes from La Fortuna to Nuevo Arenal . We are located on top of a Hill with view to the Lake, a beautiful Garden full of exotic flowers and view on a 500 year old Ceiba Tree .
The Hotel has 5 Standard Rooms and 2 Comfort Rooms with a modern and rustic style; it has a Terrace with an amazing view on the Lake.
Chef Dirk will spoil you with his Culinary Skills, Mediterranean Cuisine, homemade Bread Sandwiches, and a rich Breakfast Buffet.
If you are looking for suggestions regarding Tours , we will be happy to organize them for you. We speak German, English and Spanish , and are happy to assist you with your needs and wishes. Regarding your further travel plans, they are easy to arrange because Ceiba Tree Lodge has a convenient location. Guanacaste or Monteverde are two of the easiest travel destinations. Experience a memorable stay at the Ceiba Tree Lodge with a magic Ambience.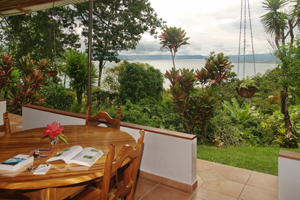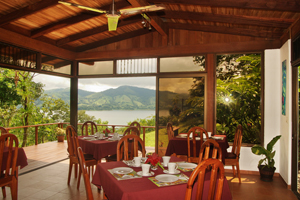 ---
Services
Let us organize the Tours according to your preferences
Enjoy our Homemade Bread Sandwiches for your Tours
We offer you a Mini Bar in each Room
Transportation
Laundry Service
Safety box
3 Course Menu prepared by our Professional Gourmet Chef
Live Chat on our Website
We assist you in renting a car
German spoken
Buffet Breakfast included
Facilities
Enjoy a wonderful Lake view from the Dining Room and Bedroom Terrace.
Take a walk in our Garden with exotic, tropical flowers.
We offer Family/ Group Rooms for max. 5 persons.
Idyllic ambience
Modern - Rustic Rooms
Just a 5 min drive to Nuevo Arenal
Easy acces for further trips to La Fortuna, Monteverde, Guanacaste.
View on a 500 year old Ceiba Tree
Parking lot for our customers